SAVE DUSTIN J HIGGS
UPDATE: Dustin's stay of execution was overturned by the DC Circuit. This makes it URGENT to speak up for him, as the execution will happen TODAY, save the Supreme Court ruling in favor of staying Dustin's execution or a commutation from the White House.

Dustin J Higgs is innocent and on death row for a crime he didn't commit. It's imperative that we speak up and demand Dustin's life be spared before it is too late. In addition, Dustin has been diagnosed with COVID, which would make his execution more cruelly painful and unconstitutional under the 8th Amendment.
Learn About Dustin's Case
On Dustin Higgs's official website, he explains his innocence using government evidence.
Videos to share about Dustin's case:
Social Media
Tag the handles in the contact list below savedustinhiggs's posts on Instagram, and use their DM template to message celebrities and those with large platforms.
Even if you don't have a large platform, liking, commenting, and retweeting helps threads gain traction.
Call and Email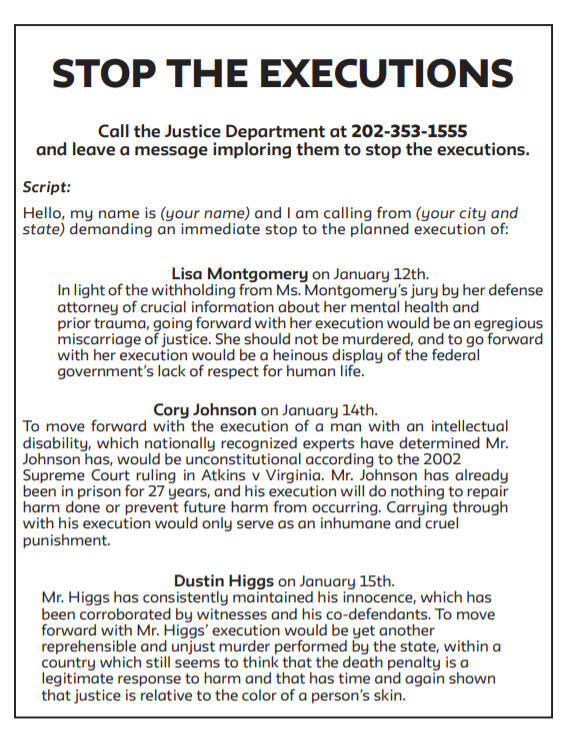 Text for copy-pasting and screen readers: A script for calling the DOJ at 202-353-1555 that reads "Hello, my name is (your name) and I am calling from (your city and state) demanding an immediate stop to the planned execution of Dustin Higgs on January 15th. Mr. Higgs has consistently maintained his innocence, which has been corroborated by witnesses and his co-defendants. To move forward with Mr. Higgs' execution would be yet another reprehensible and unjust murder performed by the state, within a country which still seems to think that the death penalty is a legitimate response to harm and that has time and again shown that justice is relative to the color of a person's skin."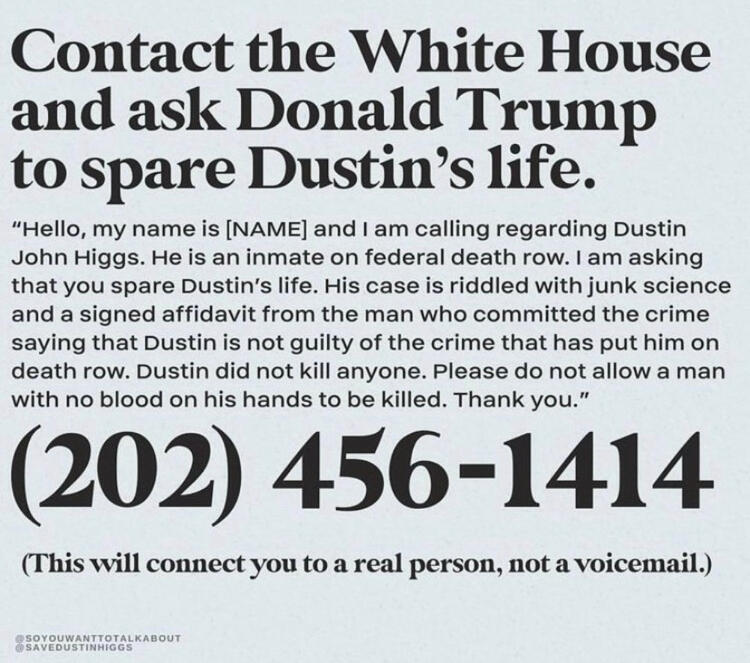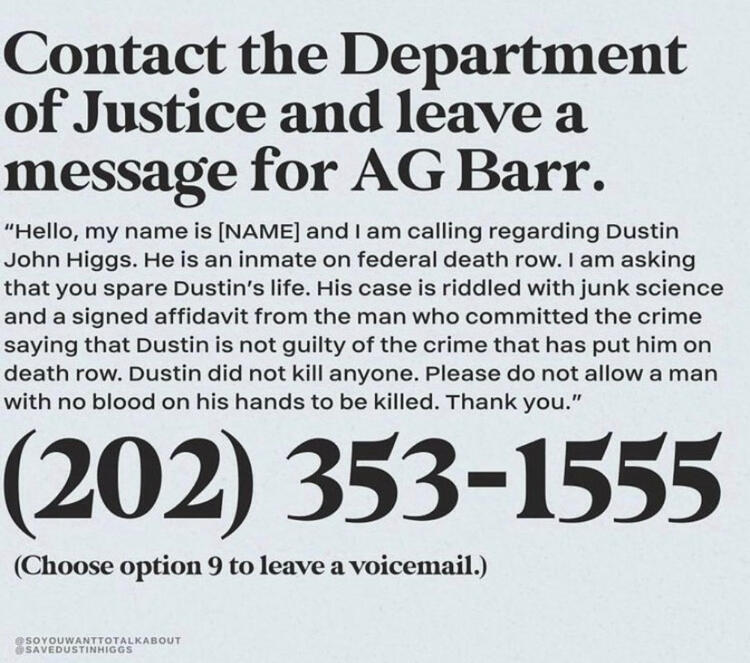 Text for copy-pasting/screen readers: "Hello, my name is [NAME] and I am (calling/writing) regarding Dustin John Higgs. He is an inmate on federal death row. I am asking that you spare Dustin's life. His case is riddled with junk science and a signed affidavit from the man who committed the crime saying that Dustin is not guilty of the crime that has put him on death row. Dustin did not kill anyone. Please do not allow a man with no blood on his hands to be killed. Thank you." (When emailing, you may want to make slight changes to the script to stop it from being marked as spam. When calling, the numbers to call are (202) 456-1414 for the White House and (202) 353-1555 for the DOJ.)

Update: the sitting AG is now AG Rosen, not AG Barr.

When contacting the DOJ with the email contact form, you can select Message to the AG/Deputy AG/Associate AG and Pardon Attorney as the subject of your concerns. This means you will have to submit the form multiple times with different subjects, so you may wish to copy and paste.
You can link this automatic email template at tinyurl.com/Justice4Dustin.

You can also call and email your representatives and ask them to speak out for Dustin!
Donate
You can also Cashapp $PSLOVEYA or Venmo @EVEALLEN to support an upcoming rally for Dustin.
Petitions
Do NOT donate to change.org! It will not help Dustin!
Related Cases
Note: I am not involved with the official campaigns of any of the people mentioned here, and will gladly add, change, or take down info on request. You can reach out at @Unoriginal_Sins on Twitter and @suchweirdnoise on Instagram.